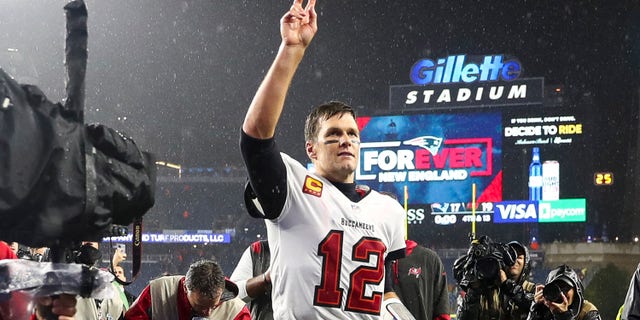 Brady had originally announced his retirement on February 1st, releasing a lengthy statement on social media saying he wasn't able to commit "100%" of himself to the game.
"This is difficult for me to write, but here it goes: I am not going to make that competitive commitment anymore. I have loved my NFL career, and now it is time to focus my time and energy on other things that require my attention," Brady wrote at the time.
Now, Brady comes out of retirement to attempt to lead the Buccaneers to their 3rd straight playoff appearance, after winning Super Bowl LV with the team in his first season in Tampa Bay.
The Buccaneers reacted with jubilation to the news, pointing to the "unprecedented era of success" the organization has seen since Brady's arrival.
"Tom Brady loves to play football as much as anyone I have ever been around. As Tom said, his place right now is on the football field. He is still playing at a championship level and was as productive as anyone in the league last season. We are ecstatic that he decided to continue playing and working toward winning another championship," said Head Coach Bruce Arians.
"We are thrilled that Tom has decided to come back this season," said General Manager Jason Licht.
Unretirement stirring but not surprising
Tom Brady never seemed fully convinced he was retiring, even when he was retiring. He bristled when word leaked that he was preparing to go before he was ready to announce it. There was no last, lingering look around as he walked off the field at Raymond James Stadium following the Tampa Bay Buccaneers' Divisional Round loss to the Los Angeles Rams.
Brady's abrupt decision as the 2021 season closed out was all the more curious because Brady played last season at such a high level that he finished second in the league's Most Valuable Player voting.
Forty days was all it took for Brady to realize that whatever had motivated him to retire — reports of irritation with Bucs coach Bruce Arians were most interesting — was not as powerful as his will to play on. It always seemed odd that Brady would leave the game before he had begun to decline, which is what gave rise to speculation that if Brady were to return, it would be to try to play elsewhere. In the end, Brady's competitiveness overwhelmed whatever concerns he had about logging a 23rd season. Somewhat amusingly, Brady, who has won seven Super Bowls, concluded his return announcement on social media by saying he had "unfinished business" in Tampa Bay. It's not hard to figure out what he means: Brady thinks he can still snag another ring. He is not wrong. And Arians is on board.
Bracketology: Duke's No. 2 seed, leaving Texas A&M out were mistakes by NCAA Tournament selection committee
We finally have a bracket. The NCAA Tournament selection committee came out with its field of 68 on Sunday and as usual, it was a mixed bag – some good and some head-scratchers.
Teams that get left out of the NCAA Tournament always gave the selection committee a reason to leave them out. That said, I have difficulty understanding how Texas A&M was left out in favor of at least Indiana and Notre Dame, the last two teams in the field.
The resume comparison with Indiana shows two very similar teams, which Texas A&M having edges in a couple of key areas. They are better away from home and better against tournament opposition. Indiana has five losses outside of Quad 1, while Texas A&M only has two. They have the same number of Quad 1 wins, but the Aggies are a little better. They both beat Notre Dame and lost to Wisconsin, although Indiana did so twice.
2022 March Madness: Complete schedule, dates for men's tournament
| | | | |
| --- | --- | --- | --- |
| Selection Sunday | March 13 | N/A | CBS broadcast 6 p.m. ET |
| First Four | March 15 and 16 | Dayton, Ohio | UD Arena |
| First/Second | March 17 and 19 | Buffalo, New York | KeyBank Center |
| First/Second | March 17 and 19 | Indianapolis, Indiana | Gainbridge Fieldhouse |
| First/Second | March 17 and 19 | Fort Worth, Texas | Dickies Arena |
| First/Second | March 17 and 19 | Portland, Oregon | Moda Center |
| First/Second | March 18 and 20 | Greenville, South Carolina | Bon Secours Wellness Arena |
| First/Second | March 18 and 20 | Milwaukee, Wisconsin | Fiserv Forum |
| First/Second | March 18 and 20 | Pittsburgh, Pennsylvania | PPG Paints Arena |
| First/Second | March 18 and 20 | San Diego, California | Viejas Arena |
| Sweet 16/Elite Eight | March 24 and 26 | San Antonio, Texas | AT&T Center |
| Sweet 16/Elite Eight | March 24 and 26 | San Francisco, California | Chase Center |
| Sweet 16/Elite Eight | March 25 and 27 | Chicago, Illinois | United Center |
| Sweet 16/Elite Eight | March 25 and 27 | Philadelphia, Pennsylvania | Wells Fargo Center |
| Final Four | April 2 and 4 | New Orleans | Caesars Superdome |
Predicting the entire 2022 men's NCAA tournament bracket, line by line